Not So Pure And Simple (HarperCollins, coming 01/21/2020)
Indiebound | Amazon | B&N | Hudson Booksellers
Two-time Edgar Award Finalist Lamar Giles delivers his first contemporary YA—an eye-opening novel that spotlights societal pressures, confronts toxic masculinity, and begs the question: what does it mean to be a "real man"?
Del has had a crush on Kiera Westing since forever, and now she's finally available. So when Kiera volunteers for an opportunity at their church, Del's right behind her. His best friend, Qwan, doesn't believe any girl is worth the long game. But Del's not about to miss his shot. Again. That's where Jameer comes in. He can put in the good word, and with other boys circling Kiera like sharks, Del needs to make his move ASAP. With all this plotting and scheming, Del never really stops to think what does Kiera want? No matter, though—once he gets the girl, he's sure it will all sort itself out. Right?
"Realistic…hilarious. I couldn't put it down." - Nic Stone, New York Times Bestselling Author of DEAR MARTIN

"..Vibrant and authentic…" - Olugbemisola Rhuday-Perkovich, author of 8th GRADE SUPER ZERO

"Heartfelt and hilarious on every page! Giles is not only adept at storytelling, he understands what makes us human." - Justin A. Reynolds, author of OPPOSITE OF ALWAYS

"Holy hell! This was perfect timely read! I laughed, I gasped, I church grunted through every chapter. Giles is a master at writing realistic characters that are both flawed and relatable." - Tiffany D. Jackson, author of MONDAY'S NOT COMING and LET ME HEAR A RHYME

"…a funny, heartfelt, and wildly charming read!" - Jay Coles, author of TYLER JOHNSON WAS HERE

"…smart, funny, and lit." - Tracey Baptiste, author of THE JUMBIES

"..Giles takes an honest look into masculinity and flips the ol' premise of "boy gets girl."" - Lilliam Rivera, author of DEALING IN DREAMS and THE EDUCATION OF MARGOT SANCHEZ
SPIN (Scholastic)
Indiebound | Amazon | B&N | BAM | Hudson Booksellers | Powell's | Audible
One murdered DJ. Two sworn enemies. An obsessive fandom. A crusade for justice that turns deadly. Get ready for a dark & deadly thriller about life & death & hip-hop.
When rising star Paris Secord (aka DJ ParSec) is found dead on her turntables, it sends the local music scene reeling. No one is feeling that grief more than her shunned pre-fame best friend, Kya, and ParSec's chief groupie, Fuse -- two sworn enemies who happened to be the ones who discovered her body.

The police have few leads, and when the trail quickly turns cold, the authorities don't seem to be pushing too hard to investigate further. Only no one counted on Paris's deeply loyal fans, ParSec Nation, or the outrage that would drive Fuse and Kya to work together. As ParSec Nation takes to social media and the streets in their crusade for justice, Fuse and Kya start digging into Paris's past, stumbling across a deadly secret. With new info comes new motives. New suspects. And a fandom that will stop at nothing in their obsessive quest for answers, not even murder . . .
"This is genre fiction at its best…" - Kirkus Reviews (starred review)

"Delivers everything you could want…" - Booklist (starred review)

"This highly recommended thriller deserves a spot on every shelf" - School Library Journal (starred review)

"Like an intense night at the club." - Bulletin of the Center of Children's Books

"Giles is one of the freshest and most fun thriller authors in YA." - B&N Teen Blog
The Last Last-Day-of-Summer (Versify)
Indiebound | Amazon | B&N | Hudson Booksellers |Audible
The Hardy Boys meets The Phantom Tollbooth, in the new century! When two adventurous cousins accidentally extend the last day of summer by freezing time, they find the secrets hidden between the unmoving seconds, minutes, and hours are not the endless fun they expected.
Otto and Sheed are the local sleuths in their zany Virginia town, masters of unraveling mischief using their unmatched powers of deduction. And as the summer winds down and the first day of school looms, the boys are craving just a little bit more time for fun, even as they bicker over what kind of fun they want to have. That is, until a mysterious man appears with a camera that literally freezes time. Now, with the help of some very strange people and even stranger creatures, Otto and Sheed will have to put aside their differences to save their town—and each other—before time stops for good.
"The Last Last-Day-of-Summer reminds me that all children deserve to exist in magical spaces where their imaginations and familial bonds will them into heroism. Every single child should have the freedom to be one of The Legendary Alstons. And I, for one, am grateful to Giles, and this brilliant story, for that reminder. " – Jason Reynolds, author of Newbery Honoree Long Way Down

"The legendary heroes of this legendary book are already legendary when the story begins! From there things can only get legendary-er!" – Tom Angleberger, author of the Origami Yoda series

"Lamar Giles has written an instant classic--readers won't want their time with the Legendary Alston Boys of Logan County to end." – Gwenda Bond, author of the Lois Lane series

"This is a series to look out for." - Kirkus Reviews (starred review)

"Laced with humor, the fantastical time war plays out at a dizzying pace as Giles interjects affecting realism with themes of reconciliation, family, identity, and destiny." - Publishers Weekly (starred review)

"Not all YA authors transition seamlessly to middle grade, but Giles manages it with aplomb spinning a zany, clever adventure that never feels forced." - Booklist (starred review)

"A page turning magical fantasy adventure." - The Horn Book
FRESH INK (Penguin Random House)
IndieBound | Amazon | B&N | BAM | Hudson Booksellers | Powell's | Audible
Careful, you are holding fresh ink. And not hot-off-the-press, still drying in your hands ink. Instead, you are holding twelve stories with endings that are still being written—whose next chapters are up to you.
Because these stories are meant to be read. And shared.
Thirteen of the most accomplished YA authors deliver a label-defying anthology that includes ten short stories, a graphic novel, and a one-act play. Proceed with caution. This collection will inspire you to break convention, bend the rules, color outside the lines. All you need is fresh ink.
BLACK ENOUGH (Balzer + Bray)
IndieBound | Amazon | B&N | BAM
Featuring my short story, "Black. Nerd. Problems."
A tour-de-force collection of stories about the black experience, by award-winning, bestselling, and emerging African American YA authors.
Black is...two sisters navigating their relationship at summer camp in Portland, Oregon, as written by Renée Watson.
Black is…Jason Reynolds writing about three guys walking back from the community pool talking about nothing and everything.
Black is…Nic Stone's bougie debutante dating a boy her momma would never approve of.
Black is…two girls kissing in Justina Ireland's story set in Maryland.
Black is urban and rural, wealthy and poor, mixed race, immigrants, and more—because there are countless ways to be black enough.
Edited by National Book Award finalist Ibi Zoboi, this is an essential collection of captivating stories about what it's like to be young and black in America.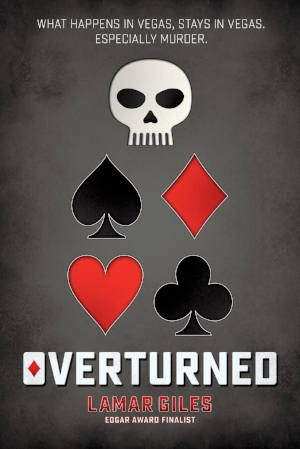 OVERTURNED (Scholastic, 2017)
IndieBound | Amazon | B&N | BAM
Nikki Tate is infamous, even by Las Vegas standards.
Her dad is sitting on death row, convicted of killing his best friend in a gambling dispute turned ugly. And for five years, he's maintained his innocence. But Nikki wants no part of that. She's been working on Operation Escape Vegas: playing in illegal card games so she can save up enough money to get out come graduation day.
Then her dad's murder conviction is overturned. The new evidence seems to come out of nowhere and Nikki's life becomes a mess when he's released from prison. Because the dad who comes home is not the dad she remembers. And he's desperately obsessed with finding out who framed him—and why.
As her dad digs into the seedy underbelly of Vegas, the past threatens everything and Nikki is drawn into his deadly hunt for the truth. But in the city of sin, some sinners will do anything to keep their secrets, and Nikki soon finds herself playing for the biggest gamble ever—her life.
"[A] story as moving as it is thrilling." – The New York Times Book Review

"An utterly compelling whodunit." - Kirkus Reviews (Starred Review)

"Another Giles winner." - The Bulletin of the Center for Children's Books

"A fast-paced, compelling mystery." - School Library Journal

"[A] dark and twisty thriller." - Publishers Weekly

Junior Library Guild Spring 2015 Pick
NEW LOOK PAPERBACK COMING 03/26/19
THREE SIDES OF A HEART: Stories About Love Triangles (HarperCollins, 2018)
IndieBound | Amazon | B&N | BAM
Featuring my short story "The Historian, the Garrison, and the Cantankerous Cat Woman"
You may think you know the love triangle, but you've never seen love triangles like these.
These top YA authors tackle the much-debated trope of the love triangle, and the result is sixteen fresh, diverse, and romantic stories you don't want to miss.
This collection, edited by Natalie C. Parker, contains stories written by Renee Ahdieh, Rae Carson, Brandy Colbert, Katie Cotugno, Lamar Giles, Tessa Gratton, Bethany Hagan, Justina Ireland, Alaya Dawn Johnson, EK Johnston, Julie Murphy, Garth Nix, Natalie C. Parker, Veronica Roth, Sabaa Tahir, and Brenna Yovanoff.
A teen girl who offers kissing lessons. Zombies in the Civil War South. The girl next door, the boy who loves her, and the girl who loves them both. Vampires at a boarding school. Three teens fighting monsters in an abandoned video rental store. Literally the last three people on the planet.
What do all these stories have in common?
The love triangle.
ENDANGERED (HarperCollins, 2015)
IndieBound | Amazon | B&N | BAM
Smile for the Camera…
Endangered is a thrilling page-turner perfect for fans of Barry Lyga's I Hunt Killers.
The one secret she cares about keeping—her identity—is about to be exposed. Unless Lauren "Panda" Daniels—an anonymous photoblogger who specializes in busting classmates and teachers in compromising positions—plays along with her blackmailer's little game of Dare or . . . Dare.
But when the game turns deadly, Panda doesn't know what to do. And she may need to step out of the shadows to save herself . . . and everyone else on the Admirer's hit list.
2016 Edgar® Award Nominee for Best Young Adult Mystery

"…a dynamic, dangerously suspenseful, contemporary adventure…" – School Library Journal

"…suspenseful and often wise." – Kirkus Reviews

"FIVE STARS!!! I honestly loved this book so much." – Just a Broke Bookworm Reviews

Junior Library Guild Spring 2015 Pick

One of Barnes & Noble's Teen Blog 7 Hotly Anticipated YA Sophomore Standalone Novels of 2015
FAKE ID (HarperCollins, 2014)
IndieBound | Amazon | B&N | BAM | Audible
NICK PEARSON IS HIDING IN PLAIN SIGHT…
My name isn't really Nick Pearson.
I shouldn't tell you where I'm from or why my family moved to Stepton, Virginia.
I shouldn't tell you who I really am, or my hair, eye, and skin color.
And I definitely shouldn't tell you about my friend Eli Cruz and the major conspiracy he was about to uncover when he died—right after I moved to town. About how I had to choose between solving his murder with his hot sister, Reya, and "staying low-key" like the Program has taught me. About how moving to Stepon changed my life forever.
"This engrossing thriller blends gritty crime storytelling with solid, realistic family drama." - Publisher's Weekly

"Conspiracy theorists and thriller fans alike will be guessing right up to the end of this exciting debut." - Booklist

"Fast action, judicious plot twists, and sufficiently evil teens and adults should keep thrill-seeking readers awake long into the night. " - Kirkus Reviews

2015 Edgar® Award Nominee for Best Young Adult Mystery

Junior Library Guild Spring 2014 Pick

A 2014 Bulletin of the Center for Children's Books Blue Ribbon Selection
Nominated for the following state reading lists/awards:
Virginia (Virginia's Readers Choice, Winner 2015-2016)

Georgia (Georgia Peach Book Award)

Texas (TAYSHAS Reading List)

Florida (Florida Teens Read)

Mississippi (Magnolia Book Award)

Louisiana (Louisiana Young Readers Choice Award)

Indiana (The Eliot Rosewater Indiana High School Book Award)

Illinois (Lincoln Award)